INSPIRE THE WORLD FROM THE HEART, THE STUFF DREAMS ARE MADE OF.
What we do.
WE CHAMPION INTEGRITY AND ENGAGE AS TRUSTED, INFLUENTIAL LEADERS TO ADVANCE YOUR BRAND THROUGH EVENTS, MEETINGS AND EXHIBITS. YOUR MISSION BECOMES OUR MISSION AND TOGETHER WE STRATEGIZE, BUILD FROM THE GROUND UP AND DELIVER SUPERIOR RESULTS. LET'S INSPIRE YOUR AUDIENCE AND THE WORLD TOGETHER.
XR/ Interactive/
Meta
Our diverse team lives and works 6 years in the future and has a background in tech, vr, and production. We are focussed on latest products and tech, pioneering innovation and entertainment. Providing cutting edge creative solutions is what we do best. Our team of technologists, programmers and developers bring AR and interactive with us to the tradeshow floor. FW helps provide the best tech for your experiential, content and event marketing
Holograms
Virtual Reality Cities/Worlds
Hybrid live / virtual reality
Virtual Reality Experiences
Performance Tracking
Storytelling
Touchless Interactive
Mixed Reality
Virtual & Digital Events
Gamification
Sensors
Content Programming
Facebook Horizons
Altspacevr
Augmented Reality
Robots
Drones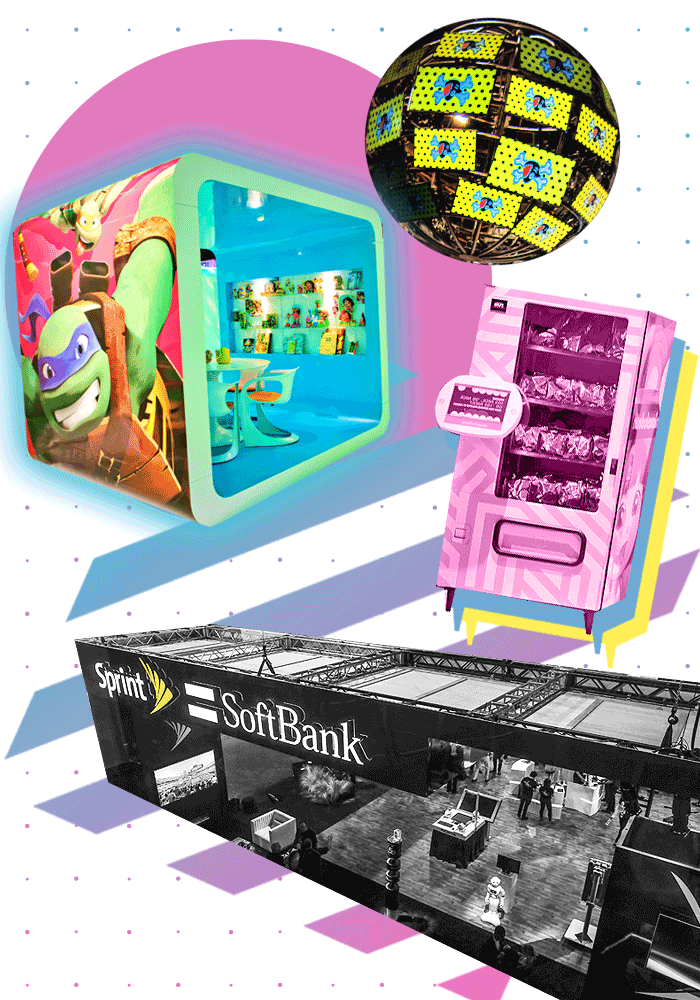 trade show
We're proud to partner with leading brands on innovative programs, high-tech multimedia presentations, product demos, and tradeshow environments around the globe. Fresh Wata customizes your vision start to finish. Our team of designers will present renderings and floor plans focussing on design before entering phase two where we begin building your exhibit space. Collaborate with our producers and project managers to actualize your vision letting us manage your unrivalled, turn-key trade show experience. Our creative thinkers strive to deliver highly successful visitor engagement and designs to optimize visibility and attraction while providing excellent service. FW team of technologists and AV experts work seamlessly with our scenic team on efficient installations.
Exhibit Design
Budgeting
Fabrication
Signage & CNC
Graphics and Printing
Flooring
Double Deckers
Rigging
Interactive
Audio Visual
Storage & Shipping & Handling
Installation & Dismantle
Demos & Kiosks
Entrance Designs
Internet & IT
Power
Talent & Entertainment
production
Captivate your audience with creativity and the latest gear for your production. FW's production team combines storytelling with video, audio, lighting and LED technology to go beyond the conventional and create extraordinary. We're proud to partner with leading brands on immersive festivals, incentive programs, high-tech multimedia presentations, and broadcast environments around the globe. Providing top-tier support and service for corporate, digital and live events is our nature. Our expert producers can help support your next event with confidence.
Executive Production
Backstage Management
AV Design
Digital Events
Live Performance
Conferences
Video Production
Filming & Editing
Content Creation
Drive-In Production
General Sessions
XR Stage
Special Effects / Pyrotechnics
Integrated Production
Live Event Production
Digital Production
Interactive/Tech Development
Event Production
LED & Video Walls
Digital & Interactive Development
AV/Lighting Design
Rigging
Stage Design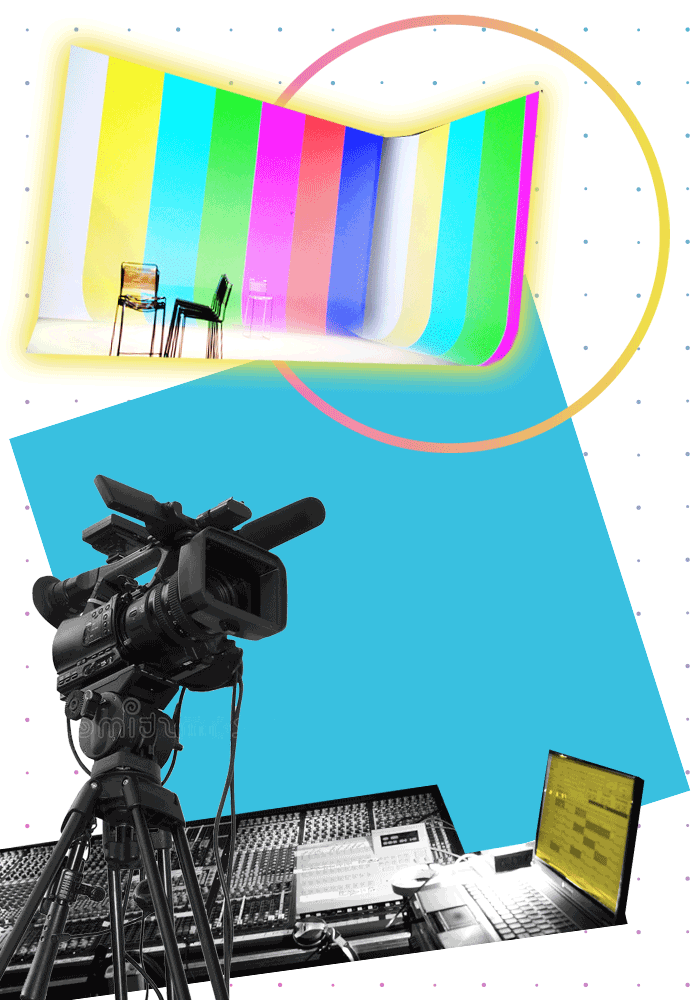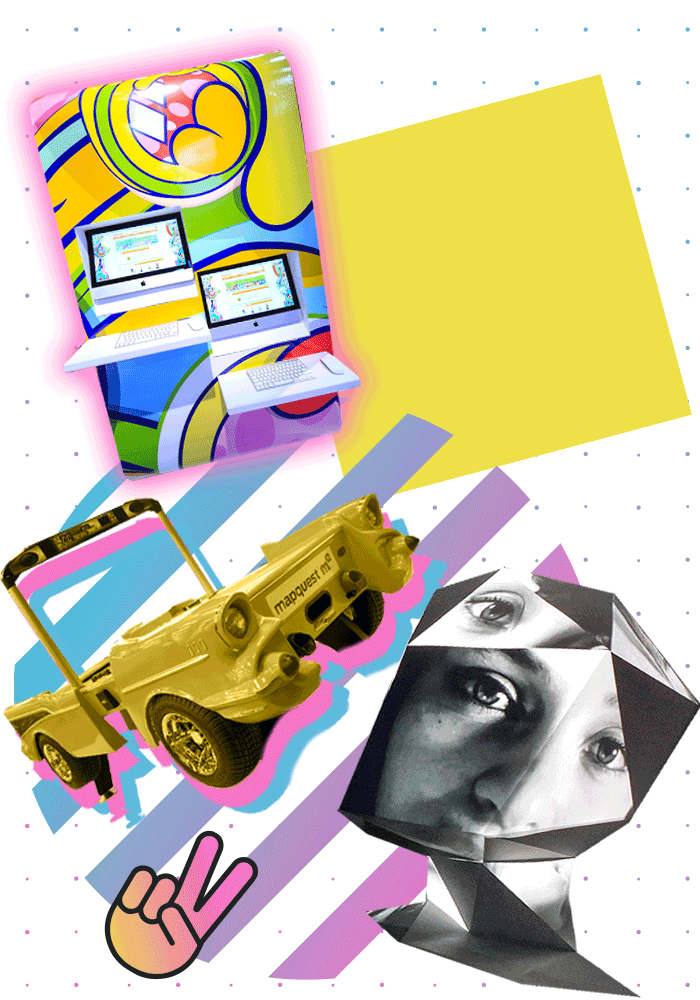 creative
FW is insatiably curious, constantly researching materials, imagining and conceptualizing. Creativity is our gift that inspires others with each experience, event, and environment we help produce. Agencies and brands seek us out for complex and original work. We rise to each occasion to produce what's never been done and bring a unique set of resources to the job. The relationships we have cultivated over the years are priceless, precious and vital to our client's success. Magic happens when creative ideas, strategy and a strong production team come together. Wildly creative, artistic and knowledgeable, we are designers and storytellers filled with unexpected experiences across different industries. Similar to an artist, we blend materials from fabric to living plants and projectors into our work creating rare or never before seen activations.
Concept Development
Innovation & Tech
Experiential Innovations
Interactive Experiences
Virtual Worlds
Insight Research & Development
Brand Strategy
Interactive/Tech Integrations
Copywriting & Scripting
Art Direction
Interactive & Immersive Installations
Large Scale Experiences
Projection Mapping
Product Experiences
Infotainment Displays
Custom Branded Video Solutions
Real-time Social Media Aggregation
Food & Beverage
Florals
Swag
design
Today, after 25 years, we continue to inspire through breathtaking and imaginative designs. We bring ideas to life starting with mood and design boards, floorplans, sketches and renderings. Often unexpected, the spaces we create embody our customers personality and speak for their brand. Our designers have the skill and tools to see projects realized. We design spaces and experiences from a blank canvas to something beautiful, sensorial and impactful. Our style is versatile, sophisticated, rebellious and unexpected. We focus on creating original environments that speak our customers' voice.
Sourcing Materials
Art Direction & Design Strategy
Lighting Design
Graphic Design
Stage Design
Brand Development
Environmental Design
UX & Interface Design
Style Guides/Toolkits
3D Renderings + CAD Drawings
Virtual Platforms
Exhibit Design
Event Design
Conceptualization & Visualizations
Interactive Experiences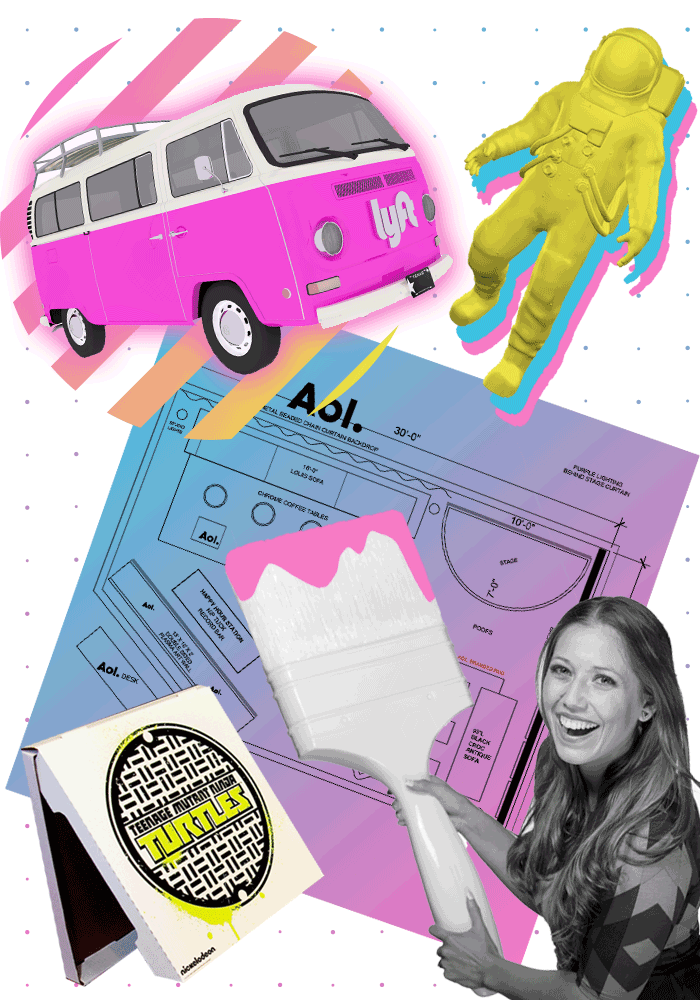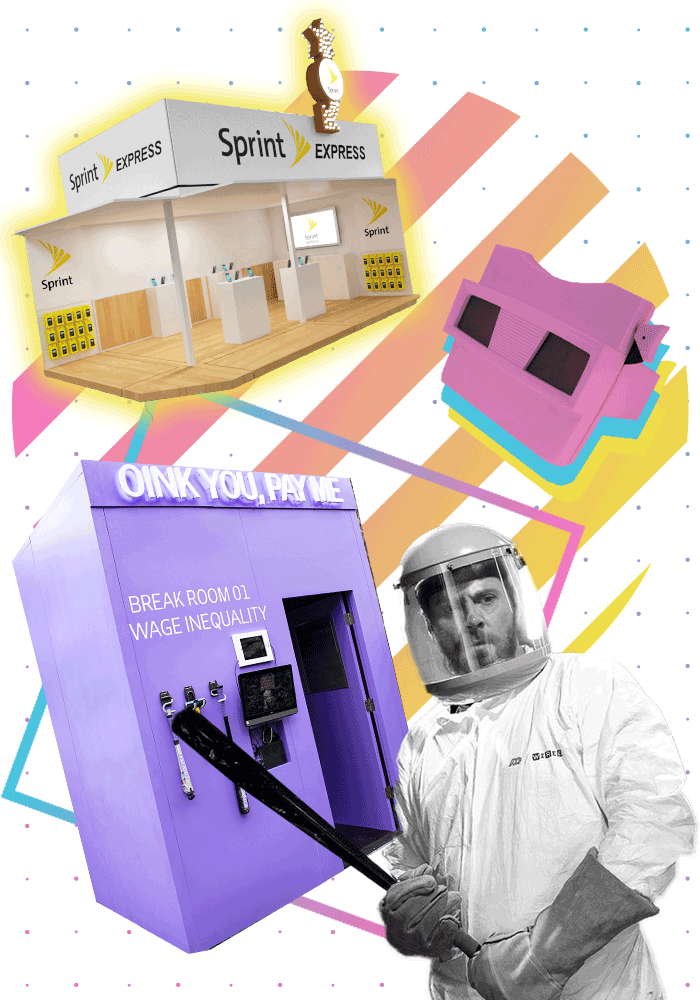 experiential
Fresh Wata focuses on how guests experience, explore and bond with our clients' brand. As creative catalysts, we produce authentic, inspiring and fully immersive 4D moments that evoke an organic connection between the user and the brand. Beginning to end we deliver meaningful experiences that inspire a deeper connection and engagement.
Activations
Immersive Experiences
XR
Programming
Interactive Engagement
Muli-Sensory
Audio Visual
Fabrication
Design & Build
Scenic
Installation & Dismantle
Sourcing
Graphic Design
Printing
Permitting
Renderings
Storyboard
event production
Fresh Wata has the resources to design, produce, execute and mindfully develop the framework for optimal event success. Your guests will have a solid platform to interact, experience, and embrace your brand in motion. With our expertise ranging from sporting events to incentive programs, and interactive experiences to exhibits, we roll up our sleeves to create peak moments that people don't want to leave, remember forever, and regret missing.
Digital & Interactive Development
Activations
Permitting
Ticketing
Security
Audio Visual
Staging
Entertainment
Video Production
Event Design
Event Management
Budgeting
Audience Seating
Floorplans
Site Selections
Venue Management
F&B / Catering
Interactive
Power
Staging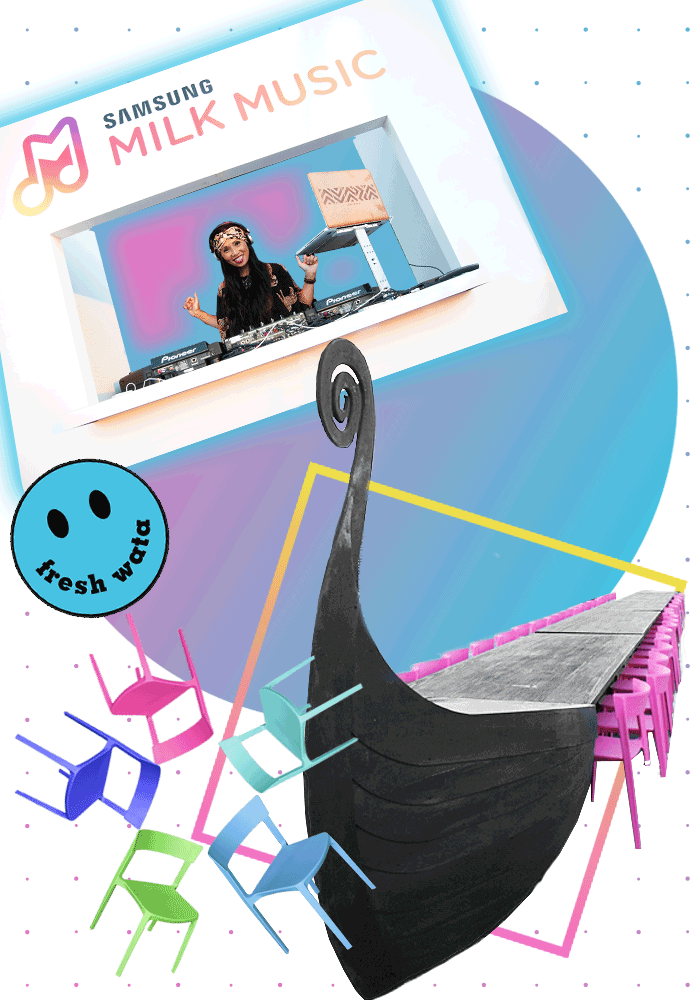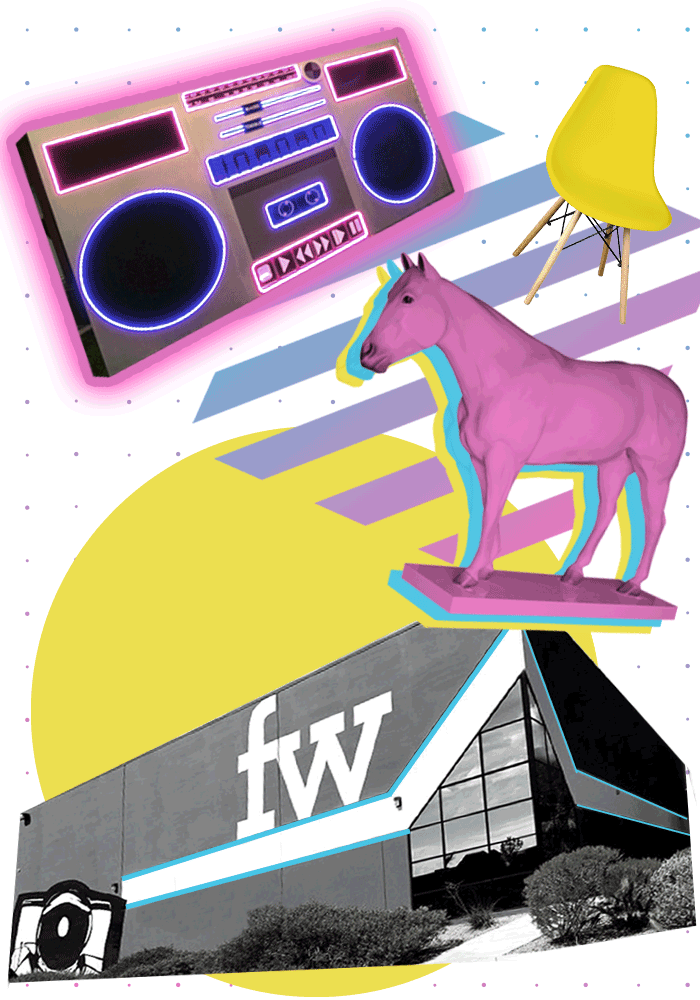 FABRICATION + RENTALS + STUDIO
Bring your difficult builds and projects to our team for estimating. The more difficult the more fun. Stepping into our shop you could see anything from a 100ft wide stage backdrop to a 20ft tall massive freestanding elephant or oversized mossy Adam & Eve tree with red apples. Agencies and brands find comfort in knowing their drawings and mechanics artfully come to life in our scenic shop to your show floor. Our builders have the ability and resources to craft and build anything you can dream for your exhibit, festival or activation. We build display cases, mountain facades, crystalized columns and retail environments using table saws, welders, CNC machines, and a tremendous amount of pride. Having our design team, producers, painters and seamstress all under one roof is an asset for creative directors and event planners focussed on big projects. We get excited by intricate signage, challenges, LED lighting and creative projects. Our builds are crated and delivered across the country and globally—where our team is there to assemble onsite.
50,000 Sq. Ft Fabrication Shop & Rental Warehouse
Equipped with a Paint Room
CnC Capabilities
Over 30,000 Unique Event Rentals
Carpentry
Studio Rental
entertainment
Great reviews, lots of high fives, and of course applause is what we strive for. FW offers customized virtual and live entertainment to maximize audience engagement and make you look good. Our team can help identify and assemble the right entertainment and talent for your audience. We offer a diverse group of performers nationally and locally, including chefs, speakers and celebrity bookings. From sommeliers to keynotes and rock stars, we can provide a myriad of acts for your sales conference, gala or client event. We excel at producing new, custom show concepts which include script writing, costuming, visuals, staging and musical direction geared towards your brand and audience.
Creating compelling entertainment
Celebrity or Influencer Bookings
DJ's + Live Music
Chefs
Athletes
Artists
Choreography
Performances
Talent Booking
Local Performers
Live Bands
Activations
Interactive Entertainment
Keynotes
Special Effects